Moorestown Our Neighbor
A brief noncomprehensive look at "The other half of Chester Township"

I know Moorestown memorialized the Buttonwood that was near Main Street, but I believe that this was the HUGE tree I remember most in the back of the Friend's graveyard on Second Street. Well probably not, but the Second Street one was every bit as big as that!
The Friends or Quakers landed in 1677 in Burlington, NJ on the ship the Kent. Other ships soon followed. Burlington was where they would stay in one community for several years before branching out to their lands. Burlington was a thriving community before Philadelphia was established in 1682. About the first order of business was to build a road from Burlington to Salem. The Old Salem Road, or Kings Highway was started in 1682. Part of it was what is now Main Street in Moorestown. This is the reason places like Mount Holly, Moorestown, and Haddonfield have so many homes that predate most ever built in Maple Shade. Maple Shade got its start for two reasons- The road that would later be built going to Market Street Philadelphia, and then the rail road.
Moorestown for its first 200 plus years referred to but Main Street, Second Street, Third Street, and an area east of Chester Avenue as it was a village in Chester. See the below 1905 map of Chester with the Moorestown area highlighted. One can note a mile stone at Holly Avenue in Maple Shade saying 2 miles to Moorestown for instance when now it would be a much less distance.
In 1700, not long after the homesteaders all got settled in, at what is now Chester Avenue and Main Street where the Friends cemetery now stands, a group of Friends- Matthew Allen, John Adams, William Hollinshead, Thomas French, Joseph Heritage, Thomas Wallis, John Cowperthwaite, William Matlack, Sarah Roberts (widow of John Roberts), Richard Heritage, all of Chester Township and Thomas Hooton and Timothy Hancock of Evesham Township purchased the land for the first Meeting House. Today a Meeting House built later stands on the opposite side of Main Street.
The Friends had a strong sense of community and education. The first Friends High School was built on the corner of Chester Ave. and Second Street in 1827! Below is a later school which stood there, now the site of the Moorestown Post Office-



They had a library that by 1876 had grown to 440 volumes! As the present day sign outside the old Town Hall says something to the effect of "Moorestown settled by Friends in 1682, recognized as the areas' center of culture." They were members of the Philadelphia Meeting House. In the summer when it was warmer the Friends would go to the Mount Laurel Meeting House because it was up on the mount and got a breeze and was cooler. About 1850 or so many very wealthy people began to settle in the area east of Chester Ave.

Many of the local soon to become wealthy families got their start from orchard fruits or selling nursery (fruit esp.) trees and seeds. Some of these families were Collins, Stokes, Perkins, and Rogers.



Later they would move into other financial endeavors. The John S. Collins family into the lumber business with lumber stores in Moorestown and Maple Shade. The Stokes into banking. The Strawbridge and Clothier families were from Mount Holly originally. Edward R. Strawbridge lived in Moorestown. Strawbridge Lake is named so because alot of the park's land was donated by his widow. John Wanamaker was a frequent visitor to early Moorestown. The coup de grace of wealth came when in 1920 Eldridge Johnson owner of the Victor Talking Machine Co. in Camden settled there. He followed the spirit of the town and gave back much such as a new Community House and most of the Episcopal Church and its pipe organ.

The following information (not a direct quote) is from the book Moorestown's Third Century: The Quaker Legacy by William H. Kingston-

An old timer said he got a kick out of how people say that Moorestown is a "Dry Town" because of the Quakers. It had two Hotels and two taverns selling liquor and going strong up until prohibition. Moorestown is even named after a Quaker tavern owner Thomas Moore! It became a dry town in 1915 by a Mount Holly Judge, then was continued by town votings.

The Quakers liked simplicity and not "show off" stuff or something like that. No Quaker grave stone stands over 1 foot high. When Samuel Allen (inventor of the flexible flyer sled) built his "Castle House" on Main street now a nursing home, it is alledged he almost got ousted from the Meeting house! The Moorestown Acme was intentially designed to resemble a Friends Meeting House.




The second Church denomination in this area was the Episcopal Church which was Saint Mary's Episcopal Church in Colestown. (now only the cemetery remains of Colestown) When it burned down early Maple Shade families such as the Rudderows who were active there and in its founding came to the Episcopal Church (older building then) in Moorestown at Church Street and Main. By the way thats what Church Road in Cherry Hill is named for- the old Colestown church.

Soon after 1905 Moorestown had a building boom like Maple Shade's although not as encompassing. South of Main Street was developed. As was West Central Ave., and so on out from there as time went on. It was at this time John S. Collins was in the lumber business. Later J.S. Collins went to go develop Miami Beach, Florida.

"Out in the Country" was what east Moorestown remained until recently. Westfield Ave. was for a time named Airport Road because of the Moorestown Airport that was there. Where Lockheed Martin (formerly RCA) stands was the Aubrey Walton and Charles Collins farms. The Collins farm had a mule pond. Where RCA was built was once asparagus fields. The Flying Feather Farm had chickens. It was named that already, but when a tornado went through the farm's chicken house in 1958 the name "Flying Feather" seemed appropriate!

Moorestown's early Main Street had its trolley tracks, general stores, American Store, and A&P like other towns. Its movie house was the Criterion while Maple Shade's was the Roxy. Maple Shaders went to the Moorestown High School I guess until they built their newer one on Bridgeboro Road. Mount Laurel children also went to high school in Moorestown.
A 1954 view of Main Street. Note the three buildings- the brick one is Woolworth's Five and Ten, then where the Peter Pan Bakery is now located is the A & P, next is where the Acme was. Note the self service signs! In the earlier days at Acmes you would give a boy working there the list of what you wanted and he would gather your groceries and bag them for you.
Today as in the past the beauty of Moorestown is in its victorian homes and in its trees. They made it a point to really tree line the streets. Moorestown has held high standards for housing, more so then other towns where FHA is enough. Its Historical Society has been successful lately in creating protection of its MANY older historical homes. Its Quaker Heritage (and ours) can still be seen there.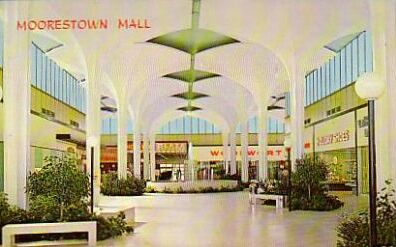 The Moorestown Mall in the sixties.
To me, it was best then with the high ceilings, monkey and bird cages, lots of fountains, the duck pond, Ginza, etc....


For a nice historical outing or for research work visit the Moorestown Historical Society You can tour the old Smith Cadbury Mansion that faced the old Kings Highway (now Main Street in Moorestown).







Home